Şebnem has graduated from Bosphorus University as Electronics Engineer, then finished her MSc in Computer Science at University of Houston. She worked in IT business at multi-national companies, within multi-national teams for 20+ years.
She has been interested in painting since 1980 , actively performing painting / ceramics since 1999. She established ArtePura Gallery-Atelier by 2010 running for two years. Currently she continues her artwork at home-atelier.
Şebnem is interested in light and nature's reflections, appreciating serenity of simplicity. She produces all artwork directly by hand yielding unique, non-reproducible, spontaneous and deliberately imperfect results.
• 2017, Cross-Breeds - Art Aquare / ArtHub Gallery, Toronto Canada
• 2017, XI Florence Biennale - Fortezza da Basso, Florence Italy
• 2017, 4th International Izmir Art Biennale, Izmir Turkey
• 2017, ArtQuake Kyoto Creativity Biennale - Museum of Kyoto, Kyoto Japan
• 2016, 3rd Santorini Biennale - Imerovigli Cultural Center, Santorini Greece
• 2016, Earth & Colors - Exhibition in Duo - Turkan Saylan Culture Center, Istanbul Turkey
• 2015, ArtQuake Kyoto Creativity Biennale - Museum of Kyoto, Japan
• 2011, Javad Soleimanpour Group Exhibition - Seven Art Gallery, Moda - Istanbul Turkey
• 2003, Atelier Keramos Group Exhibition - ArtEv Gallery, Feneryolu - Istanbul Turkey
• 2000, Atelier Keramos Group Exhibition - Atelier Keramos Art Gallery, Moda - Istanbul Turkey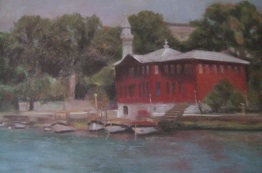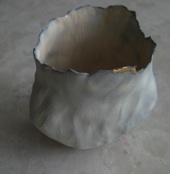 • 2018, Amsterdam Whitney Gallery - New York, USA
• 2017, Lorenzo IL Magnifico Award, 3rd Prize in Ceramics Art, XIth Florence Biennale - Italy
• 2017, Lifetime Advocacy in Promoting Peace Through Art Award, ArtQuake Kyoto Creativity Biennale - Japan
• 2017, Andrea Mantegna International Prize - Italy